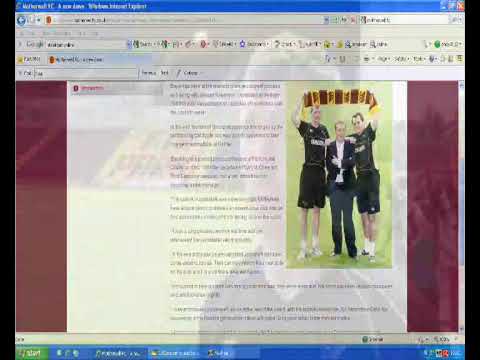 This is not a study of a bunch of blokes talking about football.
This is an ethnographical analysis of a digital community, self regulating objective and subjective discourse on matters pertinent to the group. As a regular participant of this community, the study serves as an analysis of my personal online behaviour and offers an insight of my opinions on the subject matter. I confess to participating in this community almost as much as this educational forum.
OK, this IS a study of a bunch of blokes talking about football.
I think I have spent almost as much time piecing the video together as carrying out the research. Once again, I find this course not only expanding my knowledge and understanding of digital culture – but developing my skills in engaging online by new methodologies. So now I am a digital film maker. I have used Windows Movie Maker. I have found it film editing format straight forward, but have faffed about with audio levels, trying to get an acceptable volume. It still sounds quiet. So if you are really interested, here is my script -
Steelmen Online – an ethnological study
At the game, the community of fans is obvious. But how does a community of football fans behave in a digital environment? What do they talk about? How do they interact? Is the community just as united as at the match?

This is a micro-study of one of the principle Motherwell fans forums. As an ethnological study, this film intends to offer examples of how fans interact with one another online. All members may be united in their affection for Motherwell FC and blatently biased with their opinions. But how effective is the community in ascertaining facts?

As a lifelong fan of the club, I am also a member and periodic participant of Steelmen Online. If I am honest, I should confess I hit this website more than any other. As a fan, I want to know everything that is happening at the club – who's in, who's out – who's fit or injured. Any insights on future signings???

I am going to highlight some of the online discussions, and show how forum members not only share, news, gossip and opinions, but also try to filter out fact from fiction. It could be argued this is a personal reflective study of why I spend so much time on the forum – well in a way I suppose it is…

The forum offers opportunities to share information – rate players performance – have a good rant when things go wrong – especially after a bad defeat..

Motherwell FC actually have a fairly good website of their own. It's updated daily, and keeps fans informed of latest club news. To some extent, it feeds off the success of the fans forum as a previous forum adminsistrator has now been appointed by the club as an official media officer.

But the club website can only report official news. Steelmen Online is where you go to get the insider stuff – the gossip, personal comments, and the drivel…

Over the summer months – during the close season, Motherwell underwent significant change. Several players contracts were up and rumours were rife others were to be sold. Forum discussions normally run between 1 and 20 pages. However this Ins and Out thread ran to 175.

This particular rumour here about Clarky turned out to be true. But in amongst the opinion, notice how some members make comment about the legitimacy of the story and enquire just how close to the club did the story originate.

Apart from the odd accurate gem like this one, fans generally had to feed off stories from the media – but then in Mid June things really hotted up…

Jim Gannon the new manager, was an unknown quantity in Scotland, who kept his cards close to his chest with regards transfer targets and signed players no-one had heard of. Impact on the forum – members lost and left to simply comment on who had come in.

The manager kept his word and signed a string of new players. Forum members were kept content. Anyone who did offer a story got grilled by other members.

As the new manager maintained his stance on only announcing targets, once they were signed, so Steelmen Online taught itself to accept the lack of inside stories and challenge anyone who came online to offer a scoop.

The ins&out thread gradually disintegrated into other topics and peetred out some weeks ago. But for me, it showed how the forum sought to recognise fact and fiction.

Earlier in the summer, there had been rumours about this young player Paul Slane moving on. However he picked up an injury and hasn't played this season. Forum members now seem content to wait for him to return rather than speculate his future.

Similarly, players who haven't featured much due to either injury or being dropped attracted a lot of gossip about being transferred out the club. This thread started off with a simple enquiry about a long term injured player who has not played since last season. It quickly evolved into speculation and discussion about others who are not playing in the team at present. However, notice in this thread how as soon as someone claims to have heard something, they are challenged by other members on where their story may have come from. The general consensus appears to ride on encouraging players to full health and form. The forum appears to allow members to express their thoughts and opinions, but the community seldom accepts any news at face value.

This particular story about the manager moving to another club actually eminated from a forum member finding a news story in a local paper in England. If the story made the Scottish nationals or the BBC it would be a huge story. However after voicing some opinion on the story, the discussion quickly died out as there was never any further comment from the media. The forum saw it as purely press speculation and moved on.

The forum community has learned to cope with the lack of news leaks from the club and content itself with commenting on real events. So far, this is not difficult to accept since the new manager has made a significant positive impact on the club and results are good. Like many fans, I had accepted that just because a player wasn't in the team, didn't mean his departure from the club was imminent. That's until the manager announces to the world his thoughts on fringe players…..

Like other members, as soon as I heard this – I dived straight to the obvious place – Steelmen Online.